Tenants charges and information
The purpose of this document is to provide guidance on Tenant charges and useful information. This should be read alongside the Tenancy Agreement and the Terms of Offer.
Fees applying to all new tenancies from 1st June 2019
We may charge a tenant any or all of the following when required:
1. the rent;
2. a security deposit with a maximum of 5 weeks rent, or 6 weeks on a property with rent over £50,000 per year;
3. a holding deposit of no more than one weeks' rent;
4. default fee for late payment of rent (after 14 days);
5. reasonable charges for lost keys or security fobs;
6. payments associated with contract variation, at £50 or reasonable costs incurred if higher, when requested by the tenant;
7. payments associated with early termination of the tenancy, when requested by the tenant; and
8. payments in respect of bills - utilities, communication services, TV licence, council tax and green deal or other energy efficiency charges.
Fees applying to all pre-existing tenancies entered before 1st June 2019
We shall continue to apply the charges within the existing tenancy agreement until 31st May 2020.
References/Identification
We will follow up with references based on the details that you have supplied to us. These references may be passed to our client so that they can make a decision about granting a tenancy.
Insurance
The Tenant is advised to take out and maintain appropriate insurance on all of his/her own furniture, contents and effects in the Property.
Utilities
Where applicable you will be responsible for the payment of telephone, gas, water and electricity accounts and council tax at the Property during your tenancy. It is your responsibility to notify the relevant companies and the local authority that you are moving into/out of the Property. You are also responsible for ensuring that a valid television licence remains in place for the duration of the tenancy, if required.
Taxation
If your Landlord is resident outside the UK we recommend you contact HMRC (https://www.gov.uk/government/organisations/hm-revenue-customs) to ensure you are compliant with the current regulations. Please note that Capital Apartments is not liable for the tax implications of rental payments to overseas Landlords. These provisions do not apply where you are paying your rent to Capital Apartments.
Client money protection
We carry Client Money Protection.
Management of the Property
At the start of the tenancy we will advise you who is responsible for managing the Property. Where we are not managing the Property we cannot authorise any repairs or maintenance or guarantee the speed at which repairs will be carried out. Where we are managing the Property, we may have to obtain the Landlord's consent before proceeding with a repair.
Where we manage a Property and hold keys, the Tenant is to inform the Property Management Team if they want to be present when works take place. However, where we do not hold keys or the contractor is not willing to collect keys, it is your responsibility to provide access.
Complaints Procedure
If you have a complaint please contact us, preferably by email at info@lettings.co.uk, with a full description of the issue. We will then liaise with those relevant to help resolve your concerns.
Customer service is taken very seriously at Capital Apartments and in light of this we have a three stage complaints procedure:
Stage 1 - Informal: A person wishing to make a complaint should explain clearly what he or she is dissatisfied with, and what he or she wishes Capital Apartments to do. A response to a complaint at an informal stage will be made as soon as possible and in any event within 10 working days.
Stage 2 - Formal: A formal complaint will be recorded and acknowledged by our Senior Partner Steven Breslaw who will then write to the relevant department instructing them to investigate the complaint and deal with it appropriately.
A written response from the department will be provided within 20 working days. If this period is exceeded the customer will be informed as to why this is the case.
Client Money Protection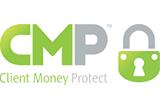 We have Client Money Protection Insurance(CMP)